Forex Grid Trading with Dual Grid Expert Advisors on MetaTrader 4 & 5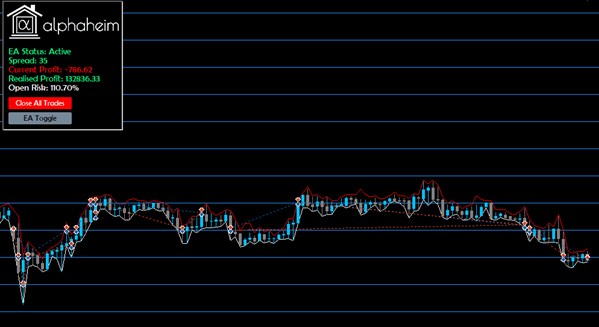 Ever wondered how Forex grid trading works? In this article we will explore how forex grid trading works and the associated benefits and drawbacks. Learn Forex grid trading with the alphaheim dual grid Expert Advisor.
What is Forex Grid Trading?
Grid trading is when orders are placed above and below a set price, this will create grid of orders at incrementally increasing and decreasing prices. An advantage of grid trading is that it requires little forecasting of market direction and can be easily automated. Major drawbacks, however, are the possibility of incurring large losses associated with running and/or closing multiple positions in a large grid.
To have both a long and short exposure at every grid level, a bi-directional dual grid EA must be used rather than generic omni-directional grid EAs. For this reason, this dual grid EA is not FIFO compliant, and would not be suitable for US clients.
What kind of returns can I expect from Grid Trading?
As with all trading systems, the returns are heavily correlated with the risk appetite of the user. With limited back-testing and a high-risk tolerance, it is possible for this EA to output returns in excess of 80%/month. However, when testing more thoroughly, the same sets will tend to lose all trading funds.
Whilst methods such as the above can be utilised, especially when there is a high probability of ranging for extended periods, it is recommended to aim for lesser returns with lower risk. As a result, grid systems typically return 10-40% per annum.
When utilising the alphaheim grid EA, we have been able to generate 5%/month (80%/annum) on average across the last eight years with relatively minimal risk.
What's unique about our Dual Grid EA?
Our dual grid Expert Advisor trading system has been designed with account growth in mind. There are no static definitions of lot sizes, or fixed profit targets. Our dynamic system calculates these metrics within the EA for a convenient trading system. Our system is ideal for traders who are seeking alternatives for existing grid trading systems such as Blessing 3 EA.
As explained above, typical dual grid Expert Advisors suffer in trending markets, and induce relatively high draw-downs. Our system provides an option to restrict trading based on the current trend. The status of the trend is determined by our derivative of the Triangular Moving Average. If the indicator returns a trending market, with a long bias, only long positions will be permitted. Conversely, if the indicator returns a trending market, with a short bias, then only short positions will be permitted. If neither condition holds, then the market is considered as ranging, and thus bi-directional trading will occur.
The alphaheim grid Expert Advisor operates with complete stealth. There are no limit orders, and no stop loss/take profit levels. All metrics are handled internally, and adapts accordingly to volatile markets to mitigate the affects of slippage and spreads.
Our system also operates with an additional hedging procedure. When utilised, a theoretically lossless grid trading system is produced, under certain conditions, and practically lossless if operated correctly. These assumptions do require sufficient liquidity, and can be taxing if the market starts to range within the hedging band.
How risky is grid trading on Forex?
Whilst grid trading can seem very lucrative, it is important to note the drawbacks. Due to the nature of trading, the account will most often be negative. This is in stark comparison to trend trading systems which are predominately in profit.
Furthermore, utilisation within a trending market, without any consideration of the trend, can lead to a large number of trades against the trend, which increase losses exponentially.
Both factors combined result in the relatively large draw-downs for grid trading systems. Most publicly available systems will produce draw-downs within the 80% region, to say that at any given point, the current equity value would be 20% of the equity at the start of the grid. This may be a willing compromise if trading smaller retail accounts, but when scaling, this excessive risk cannot be tolerated. Thus the alphaheim grid has mitigated the circumstances above and has been able to generate 80% / annum with a maximum equity draw-down of 35%.
Links for the Dual Grid Trading EA
Visit the Grid Expert Advisor Subscription Page
User Guide & Documentation for the Grid Expert Advisor
Video Walkthrough for the Grid Expert Advisor System Overview
YouTube: Grid Expert Advisor For Forex Grid Strategy Trading
Medium Link for this Forex Grid Trading Article
MetaTrader Trading Indicators & EAs
For indicators and EAs other than our Grid EA, check out the links below:
Trend Bias Indicator
TMA Indicator
Trend Divergence Indicator
Volume Insight & Divergence Indicator
Dynamic Trend Duo Expert Advisor
All alphaeim EAs, Indicators & Dashboards
alphaheim Trading Tools for MetaTrader